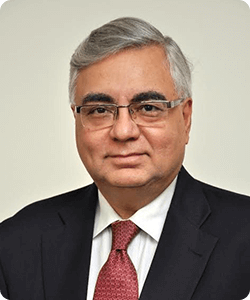 Parthasarathi Shome, is Chairman, International Tax Research and Analysis Foundation (ITRAF), Bengaluru, India. He is Member of the Board, Comptroller & Auditor General of India (CAG), 2015-17; Member of the Board of Directors, International Tax and Investment Center (ITIC), Washington DC, 2015; Member, Academic Board of Advanced Diploma in International Taxation (ADIT), 2015; and Member, Forum on Economic and Fiscal Policy (FEFP), The Hague, 2015. Earlier, he was Chairman (Minister of State), Tax Administration Reforms Commission (TARC), Government of India (August 2013-February 2015); Adviser (Minister of State) to the Indian Finance Minister (2013-14); Chairman, Expert Committee on General Anti-Avoidance Rules (GAAR), Government of India (July-October 2012); Chief Economist, Her Majesty's Revenue and Customs (HMRC), United Kingdom (2008-11), and Adviser (Secretary) to the Indian Finance Minister (2004-08).
He received the highest civilian honour of the Brazilian Government, Commander of the Order of the Southern Cross, 2000, for contributions to Brazilian tax reform. He was Director, Indian Council for Research on International Economic Relations (ICRIER), New Delhi (1999-2001) and Director, National Institute of Public Finance and Policy (NIPFP), New Delhi (1995-97). He was Chairman, Task Force on Tax Policy and Administration for the Tenth Five Year Plan (2000-01) and Ninth Five Year Plan (1996-97), Government of India. He served at the International Monetary Fund (IMF) (1983-2004) occupying various positions including the first Senior Economist in the Office of the Managing Director (1988-89), Chief of Tax Policy (1992-95), and Director, IMF Singapore Institute (2001-03). He has provided technical assistance to over thirty countries in Africa, Asia, Europe and Latin America. In his early career at American University, Washington D.C. (1975-83), he rose to tenured Professorship.
He completed his Ph.D. at Southern Methodist University, Dallas (1975) on the incidence of the corporate income tax receiving the Jeanne S. Mattersdorf Award of the National Tax Association of America as "an outstanding student in the field of taxation and public finance". His Masters degrees are from the University of Rochester (1973) and Delhi School of Economics (1972). His publications in peer reviewed journals include Journal of Economic Theory (United States), Journal of Public Economics (Netherlands), IMF Staff Papers, National Tax Journal (US), Oxford Economic Papers (UK), Oxford Review of Economic Policy (UK), Public Finance (Europe), Public Finance Quarterly (US), and several other international and national journals. His edited and own books are from Business Standard Publishers, Cambridge University Press, Centax, International Monetary Fund, Lexis Nexis, Orient Blackswan, Oxford University Press, Routledge and Springer.
Some recent publications: More Deatils…