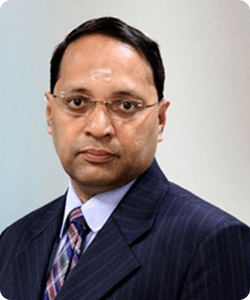 K.R. Sekar is a Tax partner with Deloitte and leads the Global Business Tax Practice for Deloitte India. He is also the Regional Practice Leader for Deloitte South India. Sekar has over 25 years of experience in the field of Direct Taxes, Mergers and Acquisitions, International Taxation and Transfer Pricing. His client portfolio includes leading companies in Technology, Media, Telecommunications, Manufacturing and Engineering.Sekar's key areas of expertise include inbound structuring, litigation support and advising on cross border tax issues. He advises inbound global companies coming into India on entry strategy, inbound structuring and assists them on mitigating tax risks. He is also associated with many landmark litigation cases for global companies.
Sekar is the Chairman of Direct Taxes Expert Committee – Bangalore Chamber of Industry & Commerce and Member of the India Board of International Fiscal Association and also works closely with other chambers including NASSCOM. He is part of Task Force constituted by Tax Administration Reform Commission (TARC) to recommend measures for reforms in Tax Administration. He is the Founder Director of International Tax Research and Analysis Foundation.
He is also a prolific writer contributing regularly to tax journals and mainline papers. He has authored many books including Transfer Pricing Law & Practice, Taxation of Merger, De-Merger & Foreign Collaboration and Landmark Judgements of Supreme Court on Direct Tax Laws: An Analysis.
Recognized as one of the leading tax advisers from India in the Guide to the World's Leading Tax Advisers published by Legal Media Group, Euromoney.
Recognized as one of the leading tax controversy leaders 2013 by International Tax Review.